Coaches… They inspire us to dream bigger… They push us further than we think we can go… They give us the tools we need to succeed… They see in us more than we see in ourselves. They change our lives. It's time to say thank you to the coach in your life.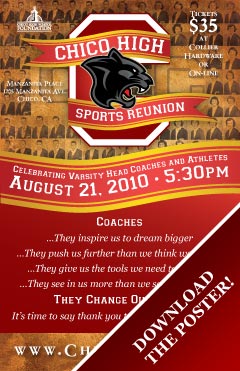 Though happy to reach our goals, we were sorry to have to turn away anyone that came out. What an amazing community surrounding Chico High School Athletics!
Join us on Saturday, August 21, 2010 to express our gratitude to the Coaches who meant so much to us and to visit with other Alumni athletes. The Chico High Foundation Board will host the first ever CHS Coaches' Reunion at the Elk's Club on Manzanita Avenue. Beginning at 5:30 p.m., there will be a social hour followed by a BBQ dinner at 7:00 p.m. Varsity Coaches from the last 60 years will be there as well as the former athletes from those golden years.
Our goal is to fill the Elk's Club with coaches and athletes from the 1950's through 2010. Let's show the coaches what they meant to us and say thanks.
The Following Coaches Will Be Attending the Aug. 21 Sports Reunion!
Kohen, Bob
La Bar, Dan
Lynch, Jim
Main, Ed
McClellan, J. "Rock"
McDonald, Skip
Miller, Ken
Nix, Tom
Noe, Bob
Perkins, Keith
Phelan, Tom
Piercy, Ken
Quist, Robert
Reyna, Sal
Rollins, Keith
Roth, Debra
Ryther, Orville
Sheley, Chuck
Simmons, Sam
Simmons, Willie
Simpson, Candy
Simpson, Mike
Stephens, Paul
Wackerman, Jeanine
Windsor, Jacqui
Yerman, Jack
Allen, Linda
Alvistur, Jason
Babb, Julianne
Bader, George
Beck, John
Bender, Daryl
Beveridge, David
Bicocca, Bruno
Boulding, Wayne
Bruchler, Kirk
Carton, Chip
Circo, Gerald
Cooper, Mike
Darby, Allen
Dillavou, Cookie
Edson, Dale
Fairley, Scott
Gailey, Mark
Gilbert, Blackie
Hanson, Bob
Heaslip, Scott
Houser, Steve
Jones, Mel
Jungling, Kent
Kemp, Richard
King, Phil